If you already have some Model Views, or you're created some specially for the purpose, you can create documents direct from those Model Views.
1.Open an eaDocX document, either a new one, or an existing one
2.Put your cursor in the Word document, where you want to the Model View section to appear
3.Select Insert | Section from Model view from the eaDocX menu
4.Choose the Favorites Folder from the list of Views Folders , or 'All' to include all the Favorites folders in the Model View.
5.See what your document will look like in the preview.

For example, if your Model Views look like this: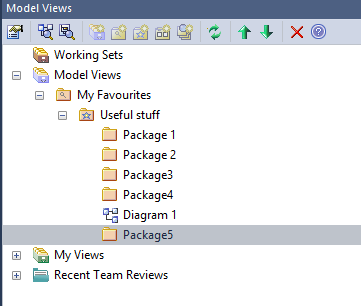 ..and you choose to add just the 'Useful Stuff' Favorites folder, then the document preview will look like this: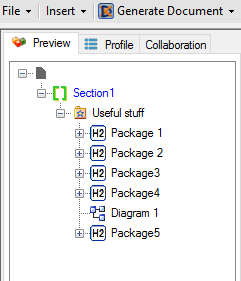 You can see how the different Packages, diagrams and elements will be printed, just as you can for other kinds of eaDocX section.
Notes:
You cannot use EA Model View 'Search' folders as part of an eaDocX Model View section. If you want to include searches in eaDocX document, then use and Element Report.