These settings allow you to control how EA diagrams will be printed.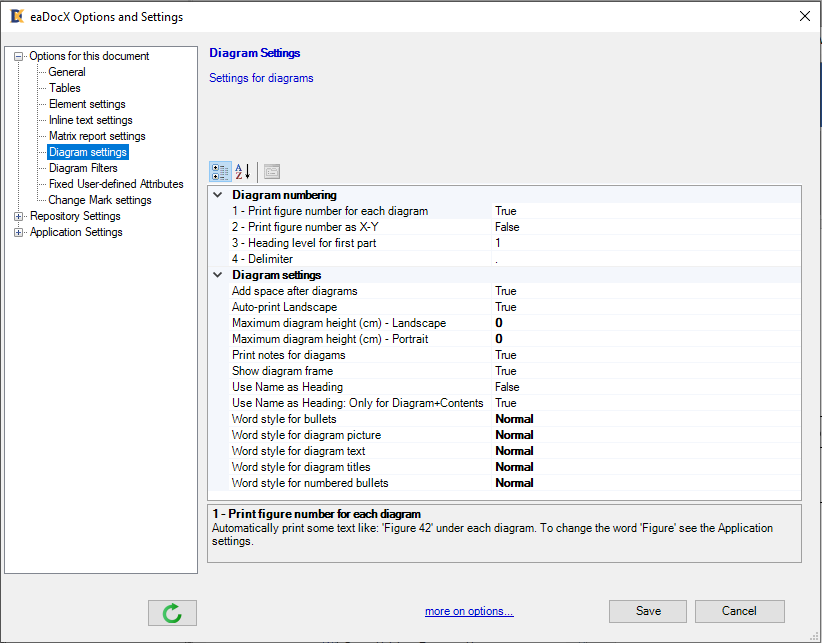 Diagram Numbering
This is by default switched-on, and will print a caption under each diagram like:
<FigureText> <diagram number> <diagram title>
<Diagram description>
•The Diagram Title and Diagram Description are taken from the diagram name & diagram notes in EA.
•The 'Figure Text' defaults to the word 'Figure', but this can be changed in the Application Settings to be a word which makes sense in you national language.
•The 'diagram number' is by default a single digit. You may choose to make this a two-digit number, such as 4.2, where the '4' is the chapter number. See Word help on 'Captions'.
Diagram Settings
Here you can control additional characteristics of how your diagrams print.:
•Landscape or Portrait orientation
•Maximum diagram sizes
•Adding frames and additional spaces around the diagrams
•Use the Diagram name as a Heading
•Printing Diagram Notes
Word Styles
You can control the appearance of the text under diagrams using Word styles.
The styles available are:
| | |
| --- | --- |
| Style Setting | |
| Diagram picture | This is style used for the diagram picture. Use this to control whether the picture is left or right justified, or centered. Other settings for this style have no effect |
| Diagram title | Style for the 'Figure 1: my diagram name' text |
| Diagram text, bullet and numbered bullet | Used to format any diagram notes |
Diagram Filters
Diagram Filters apply settings to whole groups of diagrams, either to exclude them or to change they way they print. See Diagram Filters