The eaDocX Matrix Report is all about showing the relationships between elements, so specifying which kind of relationship needs to exist between the Source and Target elements is critical.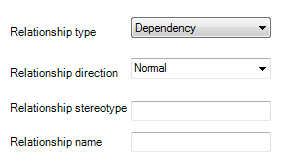 If you base the eaDocX Matrix Report is based on an EA Relationship Matrix then the relationship type and direction will already be set.
The full set of what you can specify when choosing the relationships are shown below. Mandatory data is shown in bold.
Relationship Type

e.g. 'Dependency', 'Association'. The different relationship types often have different line appearances in diagrams.

Relationship direction

Normal (Source->Target)

Reverse (Target -> Source)

Either

Relationship stereotype

Some relationships may be pre-configured in EA to have a stereotype, such as <<trace>>Dependency, or you may define your own. Use this to only show exactly the relationships you need

Relationship name

You may also have names on relationships. Use this to select only those relationships with matching names. Note that this check is case sensitive.