Depending on the Profile selected when creating your document, you may not have formatting defined for all the EA elements that you want to document. Alternatively you may wish to define custom formatting for particular stereotypes.
In order to add formatting for a new element or any specific stereotype, open the Profile tab in the eaDocX control panel and select

at the bottom of the pane.
This will open the following dialog: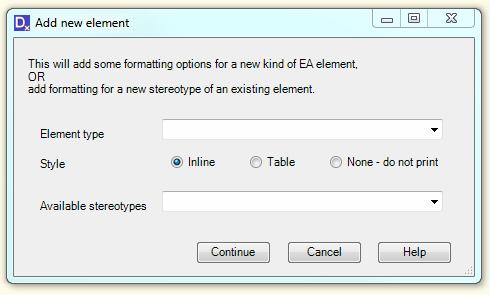 Choose the element type you wish to add and the style (in-line or table). The appropriate in-line or table formatting screen will then allow you to define the formatting for your element.
Once that is saved your new element will appear in the element list and the revised profile definition will be added to your document.
The option to choose "None - do not print" is applicable for Stereotypes only. This excludes all of the defined stereotype from your document. A confirmation dialog appears if you choose this option.