Document Information is a special kind of section which shows information about your document.
You can use Document Information sections to create great looking title pages for your documents, which can contain most of the things which your title pages contain already, but with everything populated from your EA Model.
To add Document Information to your document,
1.place your cursor in your document at the appropriate place,
2.choose Insert / Document Information from the eaDocX menu.

There are four Document Information options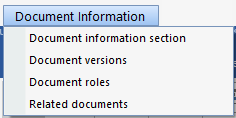 Document Information Section
The default Document Information section looks like this:

To edit the information included, or change between in-line and table formatting, choose the Document Information profile from the Profiles page and edit the contents as for any other element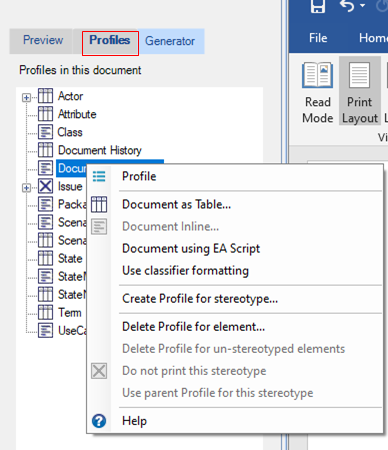 The standard range of attributes which can be printed in Document Information is shown in the Reference section.
As with other elements, you may change the text which is printed for each attribute - either inline, as a table, or inline with horizontal and/or vertical tables.
Document Information sections can also include attributes of your Word document, as saved in the Word Document Properties. See Reference for more details
Document Versions
Document versions allows your readers to track the history of a document which is under Document Management.
The default section looks like this:

The version notes are those entered each time the document is re-generated. See Document Management for more information.
Document Roles
Documents under Document Management may need to have the review and approval status of key stakeholders included.
With roles defined, the default section looks like this:
See Adding Document Roles for more information
Related Documents
Overriding Word Paragraph Styles
The best way to set the Word paragraph styles for document information, as with all other inline- and table-formatted eaDocX Profiles, is with Inline Text settings. This makes sure that the same styles are used throughout the document, which gives your document a consistent look.
But, for a document information section, which might be on the title page of your document, you might want to use a different word style.
eaDocX lets you choose the style for any attribute of any Profile of any element type/stereotype. Beware: too much variation of font and color will make your document shard to read, but for title pages this probably doesn't apply. See Style Overrides