Visualise Virtual Connectors
Display multi-hop relationships with the Advanced Relationship matrix
End-to-End Traceability
The Model Expert Advanced Relationship Matrix provides an end-to-end view of traceability in your model. Which means you can confirm the dependencies that exist between elements that are only distantly connected, without having to display every intermediate step.
Model Expert makes it easy to view these 'virtual connections', so you can discover more about the systems and processes you have modelled:
identify accidental dependencies
spot where there is missing data
provide a summary view to your senior stakeholders without the 'working out'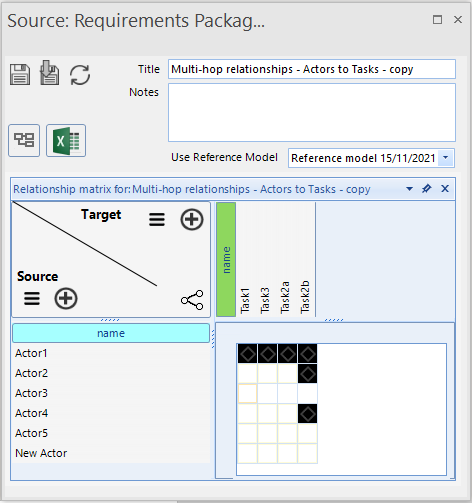 Virtual Connectors made visible
When elements are not connected directly, but are related through several relationships and elements, they may never appear on a diagram together. But there is a connection. It may be deliberate, or accidental. But you still need to know about it.
The relationship matrix created shows which source and target elements are connected, no matter how many relationship steps are between them. The matrix definition is saved in your model, so you can access it from the project browser to regenerate as your model is updated.
As the relationship between each of your source and target elements in the matrix is virtual, the cells of the matrix just show that a relationship exists.
To discover the intermediate detail, for each of these virtual relationships, simply create a diagram from the matrix.
Advanced Relationship Matrices can also be exported to Excel to be shared directly or added into your eaDocX documents.
This is the Reference model for the example above. It shows how Actors are connected to Tasks through 3 intermediate elements and four intermediate connectors.
To create an advanced relationship matrix, you need to specify each of these element and relationship types for Model Expert to follow.
Then you will see which of the individual Actors in the model is connected to each specific Task.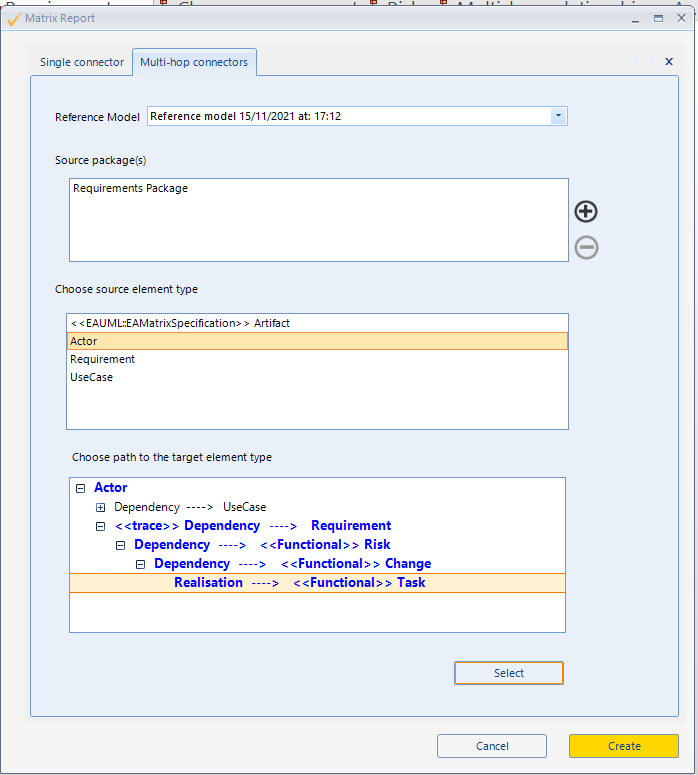 Choose the route through your model
Do this by:
First choosing the reference model with your approved metamodel
Select the package containing your source elements
Choose your source element type
Then just follow the path through the tree view to the target element type you need.
Easy!
(Note you have to choose just one path from source to target – so if your reference model allows several ways in which your source and target are connected then you will need to create a separate advanced matrix for each of those paths.)
We use a Reference model to define the path we are interested in, and then when the matrix is created that path is followed for all the data in the model. If the model is incomplete – with steps missing – then no data is shown.
Why do I need a Reference Model?
Without a Reference Model, the relationship matrix doesn't know the pattern of connectors and elements that you expect to see. If it analyzed the whole of your raw model then there would be too many options to display.
So start by creating a snapshot meta model to see all the element and connector types that exist – use it to create and edit a reference model and then define the virtual relationships you need to view
Did you know, we also offer Sparx EA training and consultancy?
We offer a variety of mentoring and consultancy options, as well as structured training and workshops, to support you with the skills you need to use Sparx EA efficiently in your business. Our goal is to bring clarity to your modelling, share solutions and equip you with insights, so that you can use the software more effectively. We already work with clients, both small and large and across many different industries, including the likes of Vodafone and KPMG.
Learn More