ea Revision Manager
Update EA with documents
Revision Manager is the extension for eaDocX which makes it easy to save model updates directly from your documents. It's the fast and accurate way to manage generated documents and your model together, by closing the loop from model to document to model.
Simplify document reviews
Everyone wants feedback, right? It proves that your stakeholders have read your work, corrected it, or confirmed it. And every bit of feedback improves the quality.
There are lots of ways to get your work to the people that matter, but the simplest is to generate a document so they can mark it up and send it back to you. Low tech, low ceremony, minimum disruption to everyone.
And when those updates arrive, Revision Manager makes the job of updating your model simple. By collating the document feedback from all your stakeholders and documents, you can:
review everything together in context,
choose the changes you want to include, and
save them directly into the model.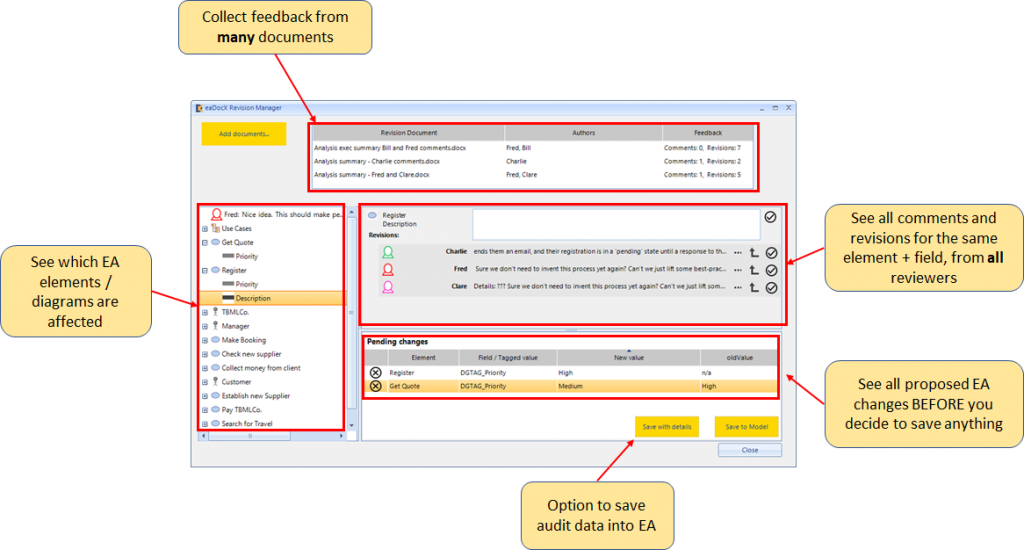 Closing the loop
Revision Manager can even combine the feedback from different documents with overlapping content – edits and comments presented for each item in the model in exactly the same way. So you can compare and update your model with the best responses.
eaDocX and Revision Manager make a time consuming and boring job fast and easy. Plus, you keep control of what's in your model.
Instant model edits from your documents
Picture this: you've generated your document. You do a quick check that it's all OK – and you spot a simple mistake. Maybe you've mis-spelled a word, or made a mistake with the wrong version of something. Just make the changes quickly in your document and then use Revision Manager to save those changes back into the model straight away. Then regenerate and send. Sorted.
PS If there are several occurrences of the same error you can use Word Find and Replace. How cool is that?
ea Revision Manager is part of eaTeamWorks. It works with documents generated by eaDocX.
See Also
Reviewing documents with overlapping EA content