Hyperlinks within your EA document
With eaDocX
Make your documents stand out. Let your readers follow the structure of your model as they navigate the links between connected elements
Hyperlinking within documents
Most readers of your documents will be familiar with hyperlinked documents. They will be used to the idea that they can follow their own train of thought as they click from one place to another within the www, rather than reading each page from start to finish.
Word has always had the capability of creating hyperlinks within a document, but creating these manually is time-consuming, and keeping them up-to-date as the document changes is a huge overhead.
eaDocX can create hyper-links within the generated part of your document, each time you print a relationship between two elements. For example, when printing the details of a Use Case, you might use Relationship Attributes to print details of the Actors who use the use case.
If the related Actors are also generated elsewhere in the document (in any eaDocX section) then you can insert a Hyperlink to the Actor description  and label it 'Used by Actors'. If the Actors are not included in the document, then no hyperlink appears, and the table just contains the Actor names, with no hyperlinks.
This is one of the ways in which eaDocX lets you tailor your documents based on the contents of your model.
Designing a document for Hyper-links
Having this facility in eaDocX is more than just cosmetic. It allows you to design your documents in a different way.
Because it's so easy for readers to click on a hyperlink to find out more, you need only include a smaller set of information in the main part of your document. Supporting material, such as the Actor definitions in the example above, can be put elsewhere in the document, perhaps as appendices. This gives readers just a core of information to read but making all the other content easily available.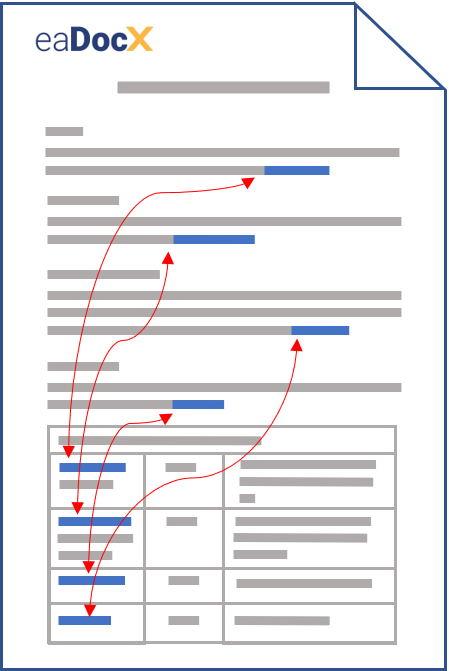 More is not Better
Because eaDocX hyper-links are so easy, and demonstrate the power of the links in your EA model, you may be tempted to put them everywhere.
However, just as a web page which is packed with hyper-links becomes annoying to read, so a Word document where every other sentence has a hyperlink may also be annoying. It also means that larger documents (>100 pages) take longer to generate.
We suggest therefore using the hyper-links feature only where it really adds readability to your documents.
For more on this subject, see the eaDocX Help for hyperlinking within documents and adding manual hyperlinks
Did you know, we also offer Sparx EA training and consultancy?
We offer a variety of mentoring and consultancy options, as well as structured training and workshops, to support you with the skills you need to use Sparx EA efficiently in your business. Our goal is to bring clarity to your modelling, share solutions and equip you with insights, so that you can use the software more effectively. We already work with clients, both small and large and across many different industries, including the likes of Vodafone and KPMG.
Learn More