Create Multiple EA Documents Efficiently
Using eaDocX
Save time by re-using common settings: profiles and templates, across multiple documents
With eaDocX it's fast and simple to create lots of different documents from an EA model. And once you've set up the look and feel for one document, you can save time by re-using that standard for other documents.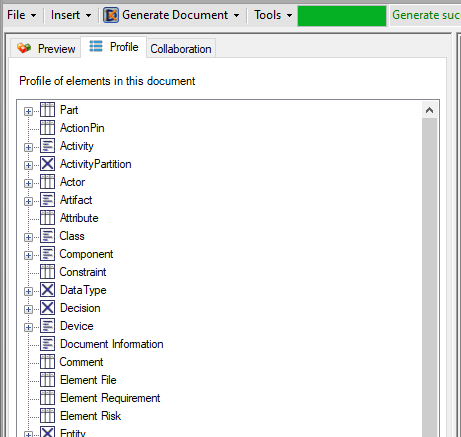 Sharing document profiles
When you create a new eaDocX document, all your formatting decisions are kept in the eaDocX Document Profile. This tells eaDocX where to put the EA content in your document, and how you want it formatted. For example, you might want each class to print all its attributes, but not it's methods, and each Interface to print in a separate table.
Once you're happy with the look of your document, you might want to print a series of documents, using the same formatting.
eaDocX lets you save the profile, and import it into another document. This way, you can make a family of eaDocX documents that all follow a single look & feel.
Re-use Word templates
Each time you create a new Word document, Word will use a template. The default one is saved in a file called Normal.dot or Normal.dotm, which is saved somewhere on your hard drive. If you have the necessary permissions, you can edit this file and save an eaDocX document as a Word Template.
This just extends the idea of what a Word Template does. The Word Template holds some default content, which will be given to each new Word document. Making a Word Template from an eaDocX document means that each new eaDocX document will already have an eaDocX Profile built-in and all its settings defined. All the Word document and table styles will already be connected, so all new eaDocX documents will immediately conform to your local look and feel.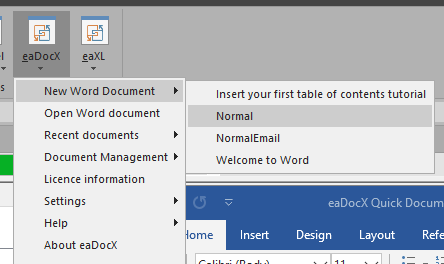 Auto Templates for documenting Elements
If you need to document several individual elements in exactly the same way, each in their own document, you can use the Auto Template feature to create a standard document. This is then saved, ready to generate multiple times – one document for each element in a package.
Just select the package containing all your elements, and instruct eaDocX to "Document from Auto Template". You'll get a set of documents all generated together. All with the same structure and formatting; but separate content, individually generated and saved. This is particularly helpful if you have elements with complex internal structure, sub-elements, and diagrams. For example, processes or use cases.
All this, saving you even more time.
Did you know, we also offer Sparx EA training and consultancy?
We offer a variety of mentoring and consultancy options, as well as structured training and workshops, to support you with the skills you need to use Sparx EA efficiently in your business. Our goal is to bring clarity to your modelling, share solutions and equip you with insights, so that you can use the software more effectively. We already work with clients, both small and large and across many different industries, including the likes of Vodafone and KPMG.
Learn More