Quickly Transform your Sparx EA Model into a Word Doc
With eaDocX
The fastest way to create a document from a package or diagram. eaDocX reads your model and produces a formatted Word document with just 2 clicks
Producing high-quality documents with eaDocX is simple. Just two clicks and you have your first document. With eaDocX Quick Document, just choose the EA Package, element, or diagram you want to print in the EA Project Browser, then right-click to select Specialize | eaDocX | Quick Document.
This generates a new Word document containing the package, element, or diagram you selected. The smart bit? eaDocX examines your model for the content that is in there and then uses just that to make your document. Not only that, but the document follows your default Word templates and styles, so your generated document already looks familiar.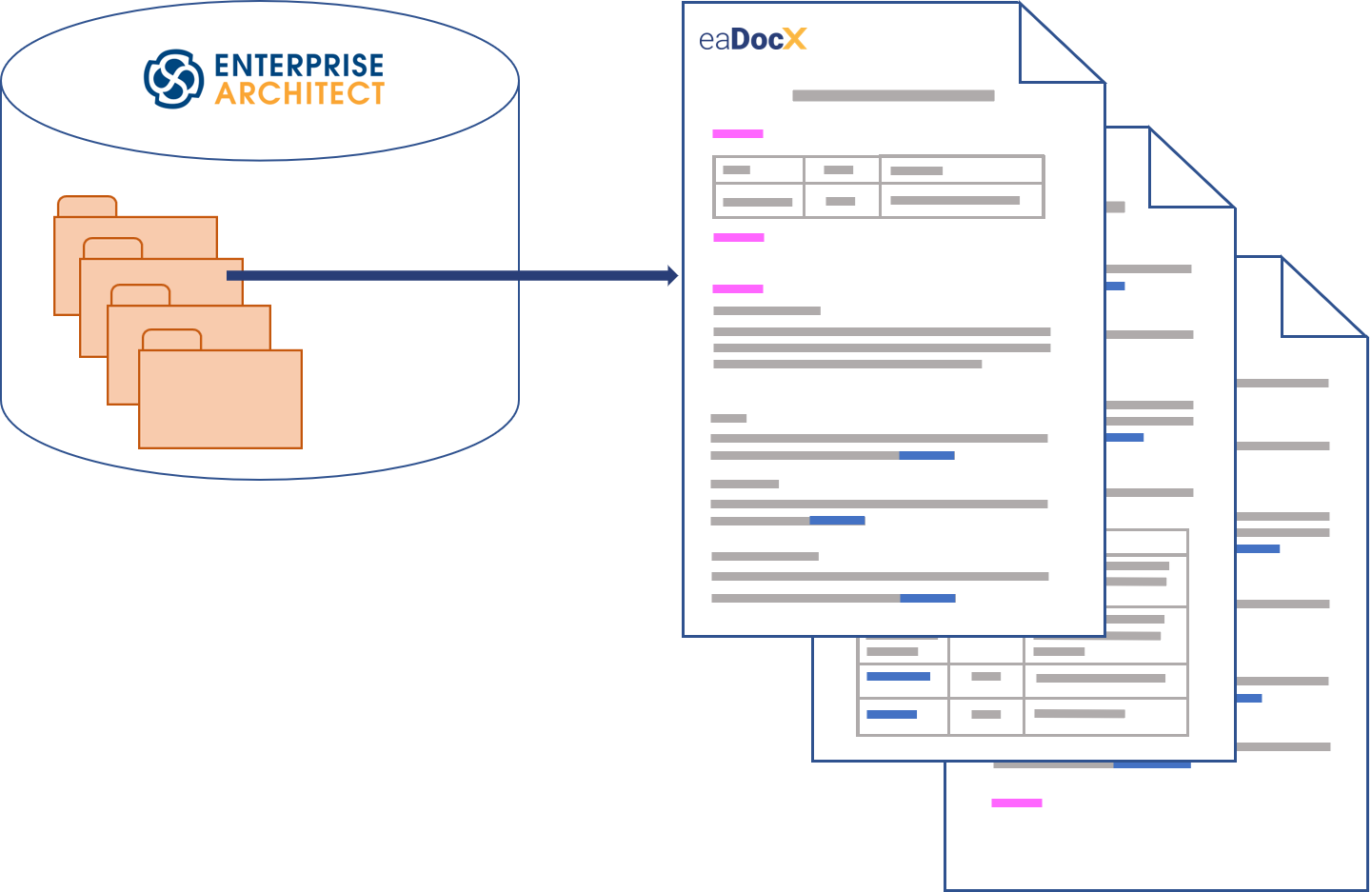 In short, eaDocX quick document:
Opens a new Word document, using your default Word Templates
Adds two sections to it – one with some Document Information, and another containing your package, element or diagram
Auto-generates a profile for the document. This contains the kinds of elements and stereotypes you have used, and how you have chosen to connect them together.
Generates the document.
​…and all in a few seconds.
Your document will include content that eaDocX found and decided was significant:
Diagrams and their contents
Child elements and any children of the children
Attributes and Tagged Values that have been populated (rather than just those that contain EA default values).
Relationships between elements and hyperlinks to related elements
Internal requirements
If you're really lucky, this will be exactly the document you want.
More likely this will be nearly the document you want, but it will have all the essential elements defined, so you can now refine the document to look exactly the way you want.
You can edit the attributes and TVs that appear; change from in-line to table formatting; remove blanks from the document; edit captions and headings; show reverse relationships. And more…
For more information on eaDocX Quick Documents, watch these Video Guides
Quick Documents #1 – for User Stories
Quick Documents #2 – for Use Cases
Quick Documents #3 – for Requirements
Generate Quick Documents free with eaTeamWorks
There are no limits to the number of eaDocX quick documents you can generate for free with eaTeamWorks – but to change the formatting or content you'll need an eaDocX license.
Did you know, we also offer Sparx EA training and consultancy?
We offer a variety of mentoring and consultancy options, as well as structured training and workshops, to support you with the skills you need to use Sparx EA efficiently in your business. Our goal is to bring clarity to your modelling, share solutions and equip you with insights, so that you can use the software more effectively. We already work with clients, both small and large and across many different industries, including the likes of Vodafone and KPMG.
Learn More