Update your Sparx EA Model Using Feedback from Document Reviews
With eaDocX and Revision Manager
Collect, select and apply every review response direct into EA.
Using the eaDocX Revision Manager

When your stakeholders have completed their reviews, the Revision manager lets you compare your source document – the one you sent out for review – with all the versions of that document containing review comments and edits. In this example one document has comments & revisions from one person. In the other, two people have collaborated on the same document.
A single view of all comments and revisions
The revision manager shows all the comments and revisions colour coded by reviewer – those which apply to EA content, and those which don't. Inputs are identified with individual  reviewers, rather than per document. That means no traceability is lost when multiple reviewers participate in shared document reviews (e.g. in Microsoft Teams or SharePoint).
For attributes or TVs of EA packages or elements, the list view shows each revision underneath the parent element. Select each item to see all the reviewer revisions for that item.
Where the revision manager can't resolve the revision to specific EA content then it will be included, but listed against the reviewer who suggested it.
The order of revisions in the list matches the order they appear in the reviewed documents.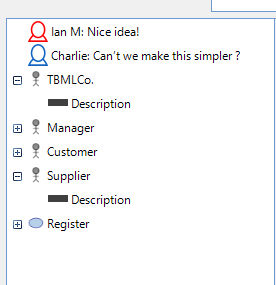 Managing multiple inputs
Comments and edits from all the review versions of the source document are grouped together. Where several reviewers have all made changes to the same part of your document, you choose which version to accept, or you can edit the value to be changed in EA based on all their inputs.
You can also compare review inputs from multiple different source documents
Finding the revisions
Select any review input and eaDocX Revision Manager will instantly take you to that edit or comment in the review document – and to the same place in every other review document that you have open. When a proposed change can be resolved to a package, diagram or element, the original item will be shown in  the EA project browser too.
Accept - then commit
As you work through the revisions, you can accept changes one-by-one. But sometimes a comment from one part of the document may affect how to change other parts. So, before you make any changes to your model, you can review them all together.
Then, when you are happy, commit them to EA.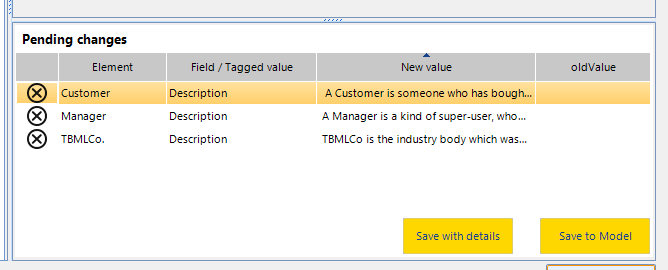 Did you know, we also offer Sparx EA training and consultancy?
We offer a variety of mentoring and consultancy options, as well as structured training and workshops, to support you with the skills you need to use Sparx EA efficiently in your business. Our goal is to bring clarity to your modelling, share solutions and equip you with insights, so that you can use the software more effectively. We already work with clients, both small and large and across many different industries, including the likes of Vodafone and KPMG.
Learn More