Editing Reference Models
Customizations for your Reference Model
When you create a Reference Model from your initial modeling, the RM which you get will have all the characteristics of that initial model: good and bad.
So it's normal, once you have created an initial RM, to customize it. For example:
Remove some stereotypes you don't want to use
Remove some connection types you don't want to use
Give some meaningful names to the different types of diagram, and customize what can appear in each diagram
Any modelling which is checked against your reference model will pass the check if it is allowed by your reference model. However it might not be enough to make sure that everything modelled is allowed – you may have elements or fields that MUST appear.
To specify required items, add validation rules to your reference model.
Tailoring Reference models in this way is useful when you are using your RM to check exisiting models. But what if you want to apply the Reference Models for new modelling? Model Expert gives you more options to set up your modelling team to model right first time.
Preparing for Guided modelling
Model Expert provides a number of additional settings that give your modellers even more help. You can: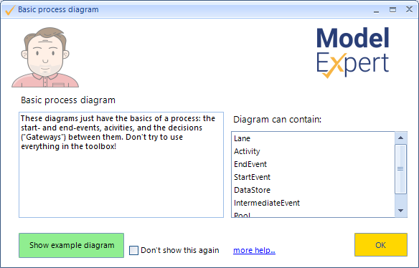 Did you know, we also offer Sparx EA training and consultancy?
We offer a variety of mentoring and consultancy options, as well as structured training and workshops, to support you with the skills you need to use Sparx EA efficiently in your business. Our goal is to bring clarity to your modelling, share solutions and equip you with insights, so that you can use the software more effectively. We already work with clients, both small and large and across many different industries, including the likes of Vodafone and KPMG.
Learn More