Document management
eaDocX can integrate all the documents you generate from EA directly into your governance process, with automatically added document versioning, history and approvals traceability.
It's simple to include ready formatted sections of standard information in your documents.
The minimum (we suggest): document generation date, author and repository
Other documents which have been created from the model, and what versions of those documents exist
Document reviewers and approvers plus approval status
Related documents, where one document references or depends on another
Document version history and changes between versions
Each Quick document includes default document information: generated date, author and repository.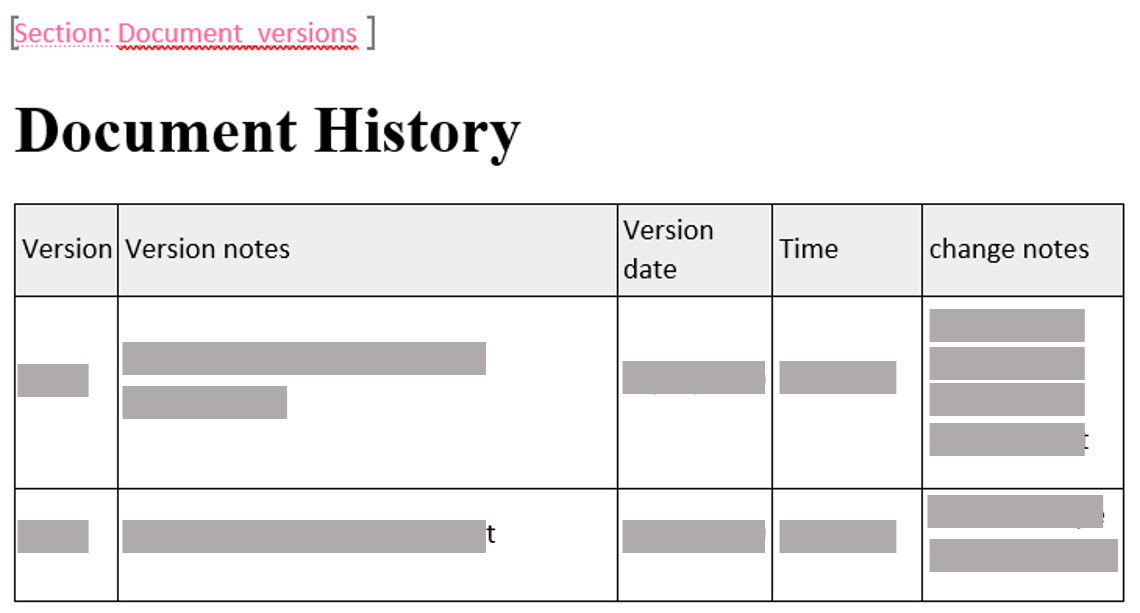 Versioning and History
With EA and eaDocX, it's easy to produce many more versions of documents than for manually written ones. All your documents can be kept up-to-date, and with the Revision Manager extension for eaDocX, it's easy to add version information into the document wherever you want it: on a front page, in the header, or both.
Each version has an issue number, date and comments, so you can describe the rationale for the new version. Presented as a table, this gives a clear history of the document. You can also add change marking
If your document versions have been saved inside EA, readers can follow hyperlinks straight to previous versions.
You can also include hyperlinks to versions of other referenced documents, so readers can cross reference to whatever published information they need.
People and Roles
Many formal documents also have a sign-off sheet at the start of the document, identifying the author, reviewers and approvers.
It's simple with Revision Manager to add a review and sign-off table into your document, with names generated from the stakeholders defined in your model. This information can also be used for collaboration roles when you publish documents  for review.
Document Status
Status
Each Version of a document can have a simple status value. Each time you re-generate the document, you can change its status. This is designed to be as flexible as possible, so for example you might use status values of 'Draft' and 'Final', or 'Ready', 'Work-in-progress' and 'New'.
Approval Status
Each document may have a number of people who are formal 'Approvers' of that document. In EA they have been linked to the document with the specific rule type of 'Approver' (or the equivalent in your national language).  Change your document status as new versions are issued.
Another way to make everyone on your team productive in EA.
You can also save your eaDocX documents inside your EA model, so they can be opened and viewed by any EA user, with no need to have eaDocX installed. The content, structure and formatting exactly as you have defined them.
Did you know, we also offer Sparx EA training and consultancy?
We offer a variety of mentoring and consultancy options, as well as structured training and workshops, to support you with the skills you need to use Sparx EA efficiently in your business. Our goal is to bring clarity to your modelling, share solutions and equip you with insights, so that you can use the software more effectively. We already work with clients, both small and large and across many different industries, including the likes of Vodafone and KPMG.
Learn More