Sparx EA Traceability
With eaDocX and Revision Manager
An audit trail for the changes you have made
Revisions in EA
When you have collected all the comments and revisions from your reviewers, accepted them and saved them into EA, Revision Manager makes changes in your model:
Any field that you have changed is updated. (e.g.Element priority, Package notes, Diagram name…)
You also have the option to create an audit-trail, to see who made the changes. These are just regular EA elements, so you could, for example, include them in the next version of the document, to re-assure your readers that their feedback is being included.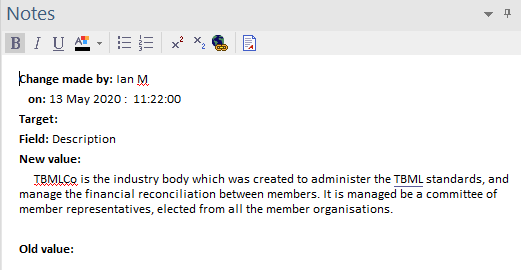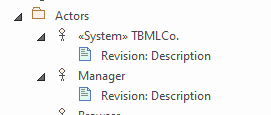 If you choose to save with details, a note is added into EA attached to the element/package/diagram that was changed. The note provides an audit trail of who requested the change, the date it was made, and the old and new values. Making it clear why changes were made.
Outside EA, you also have the revised documents returned from your reviewers to provide full traceability.
And for the rest...
For comments that didn't result in a change, or if several people commented but only one 'took the credit', or if changes that were made to non EA-generated content, the complete audit trail is available in the Word document versions that your reviewers edited.
Did you know, we also offer Sparx EA training and consultancy?
We offer a variety of mentoring and consultancy options, as well as structured training and workshops, to support you with the skills you need to use Sparx EA efficiently in your business. Our goal is to bring clarity to your modelling, share solutions and equip you with insights, so that you can use the software more effectively. We already work with clients, both small and large and across many different industries, including the likes of Vodafone and KPMG.
Learn More