Sparx EA Ad-hoc Diagrams
With the eaDocX extension
Use the 'Contents not diagram' printing option to create a document with just the relevant information needed for an ad-hoc meeting called about an urgent issue.
Create a diagram, then drag and drop all the elements & packages you need into it.
This technique provides a way of quickly creating a document from information found anywhere in your model, using a whole variety of EA elements.
The resulting document Section
eaDocX will print the diagram contents, using the formatting options defined for each element type in the diagram. In this example, Actor elements print in numbered paragraphs and Issues print in tables. (Packages, by default, always print in paragraphs.)
If there are no formatting options defined, eaDocX will create a default set for each element type, based on what it finds in your model. Find out more about formatting here (link to new Tables/paragraphs/in-line tables article)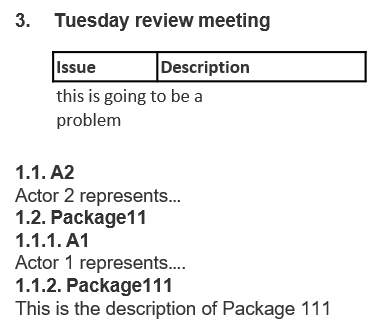 You can refine this even further
… by selecting the visibility of attributes and operations/methods in your class diagrams (see Include/Exclude). Then eaDocX will print only those attributes and operations which are shown in the diagram.
Did you know, we also offer Sparx EA training and consultancy?
We offer a variety of mentoring and consultancy options, as well as structured training and workshops, to support you with the skills you need to use Sparx EA efficiently in your business. Our goal is to bring clarity to your modelling, share solutions and equip you with insights, so that you can use the software more effectively. We already work with clients, both small and large and across many different industries, including the likes of Vodafone and KPMG.
Learn More