Gather Sparx EA Data & Format Easily into a Report
Using eaDocX
Curate a list of element types across several packages to create documents with element reports, cross reference reports, and searches.
The Element Report feature lets you cut across the package structure, and gather elements from anywhere in the model, and list them, either as a table or inline.  This is useful for collecting all the instances of an EA element together, regardless of where those elements appear, for example, all the 'issues' you've created.
Element Reports are also useful to check on the completeness of your model, or to find new elements since a particular date.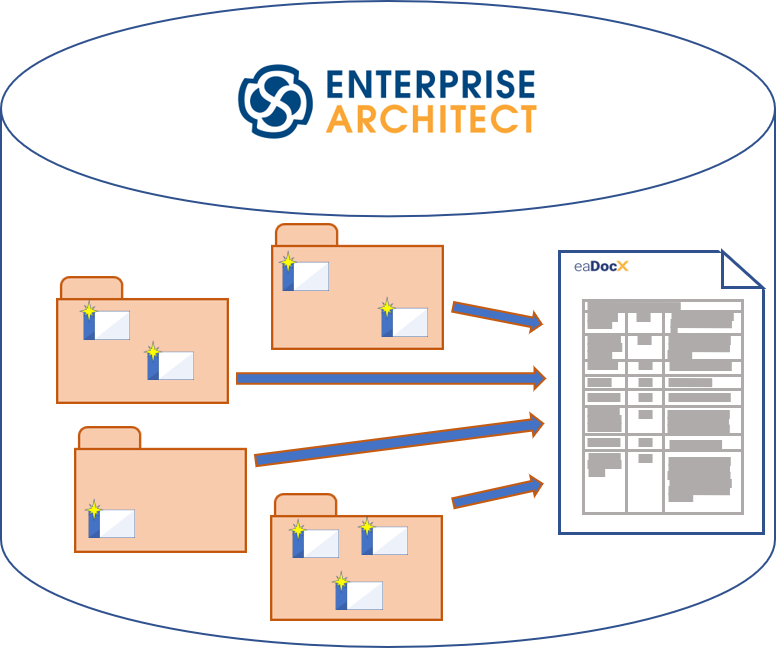 Package-Based Reports
These print all the elements of a particular type which are underneath a specified package, regardless of where they are in the hierarchy of that package.
Cross Reference Reports
eaDocX can also create a Cross-reference report. This is a specific type of Element report which lists all the elements of a particular type which are referenced in your document.
Cross reference reports are useful when the main body of your document contains lots of hyperlinked references to other elements, and instead of having to list all of the other elements of each type, the cross-reference report lists only the elements that are referenced. Find out more about hyperlinks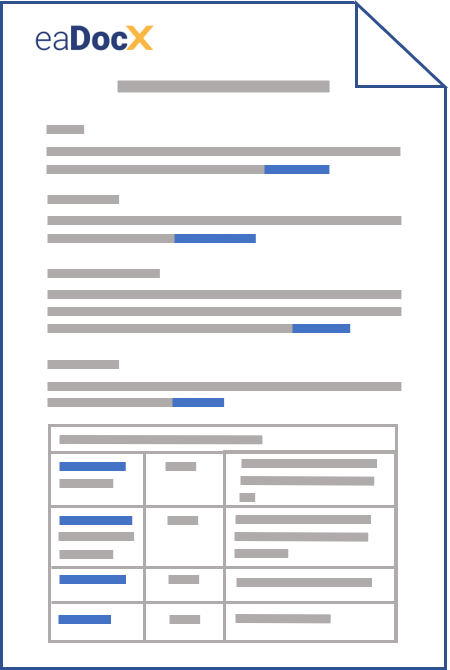 Reduce the size of your documents and deliver just the information your stakeholders need
EA Model Search Reports
These print the results of running an EA Model Search. With eaDocX you can use those same results as the starting point for your document or document section.
EA Model Search results can also be printed as the source or target of a Relationship matrix.
Did you know, we also offer Sparx EA training and consultancy?
We offer a variety of mentoring and consultancy options, as well as structured training and workshops, to support you with the skills you need to use Sparx EA efficiently in your business. Our goal is to bring clarity to your modelling, share solutions and equip you with insights, so that you can use the software more effectively. We already work with clients, both small and large and across many different industries, including the likes of Vodafone and KPMG.
Learn More