Auto-generate Sparx EA Data into Existing Word documents
With eaDocX
It's easy to add EA material into any Word document, so your documents can contain a combination of hand-written Word material as well as EA content generated by eaDocX.
Grow your use of EA and eaDocX
eaDocX gives you the flexibility you need to add as much or as little content as you want into any Word document.
Some documents will never be 100% EA generated. We all work with multiple tools and have many different data sources. But if you want to make that transition, eaDocX makes it easy to gradually shift the balance of your documents from hand crafted to EA generated – one section at a time.
That means you can continue to use the previously manually created content until it is no longer needed. Maximising the benefit of knowledge already captured.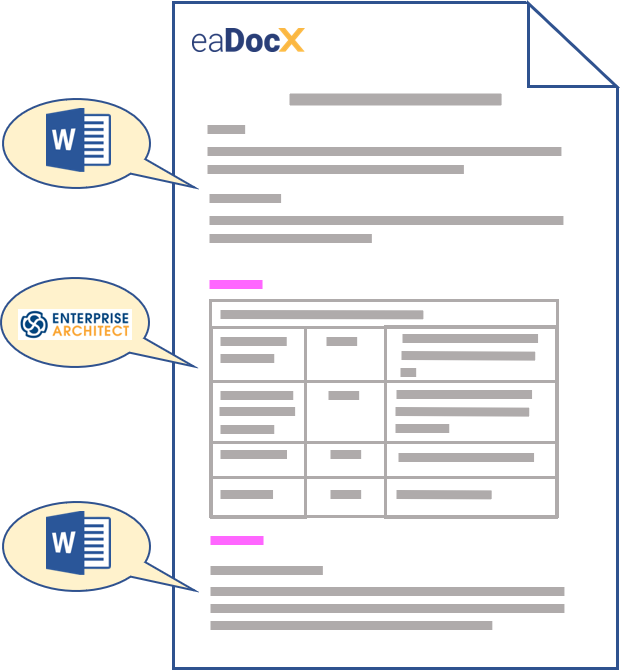 Any EA source can be added into any Word document with eaDocX
Open any existing Word document, wherever and however it was created, and just like in a new eaDocX document, add in the EA material of your choice. (link to new article Building documents with Sections). Then generate your document.
The original Word content will be saved, unchanged, along with the new EA generated Sections.
You can add a single diagram, a whole package structure, a matrix, a report, or maybe just a glossary. And you can add as many eaDocX sections as you want.
No more cutting and pasting diagrams!
As soon as any document with this added EA content has been generated once, it will have its own eaDocX profile. So whenever you update your EA model your document can be refreshed with eaDocX. In this way, all your documents can be kept up to date more quickly and easily.
Did you know, we also offer Sparx EA training and consultancy?
We offer a variety of mentoring and consultancy options, as well as structured training and workshops, to support you with the skills you need to use Sparx EA efficiently in your business. Our goal is to bring clarity to your modelling, share solutions and equip you with insights, so that you can use the software more effectively. We already work with clients, both small and large and across many different industries, including the likes of Vodafone and KPMG.
Learn More