Sparx EA Relationship Matrix
With eaDocX
With eaDocX you can tailor the detail displayed in relationship matrices, by adding attributes to Source and Target elements and changing the appearance of the cells. Bringing your EA data to life.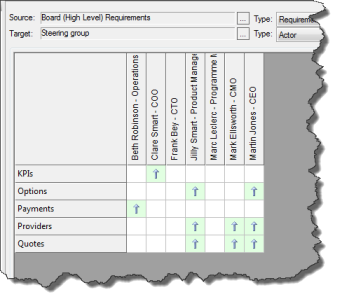 The EA Relationship Matrix is a quick way to view and create relationships between sets of elements
It allows you to select two sets of elements of a particular type, either from a Package, or from a Search. You can then choose a relationship type, and EA will show you if the elements are related.
This is much quicker than creating a diagram, and makes it much clearer where there might be missing or duplicate relationships.
With eaDocX you can use the Relationship Matrix for MUCH more
Make the content more specific, by specifying the stereotypes of elements, not just the element types
Optionally miss-out columns or rows which have no relationships: easier to visualise a sparse matrix
Use Word Table styles to make the table look just the way you want
Sort the rows and columns
Include additional columns and rows with more data about the source and target elements
Add Conditional Formatting to change the content and appearance of cells
All this means your EA Relationship Matrix can really come alive
For example, add more columns to show more details of the data, and replace the arrow with a 'tick' where there is a valid relationship.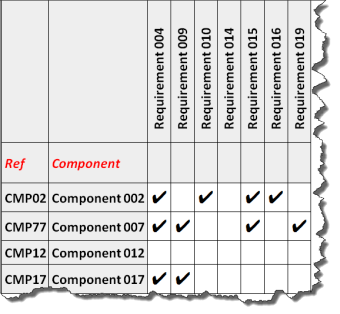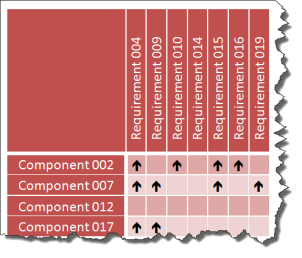 Or add a Word Table style:
Or add Conditional Formatting rules to change the appearance of cells: making it even easier to visualise the information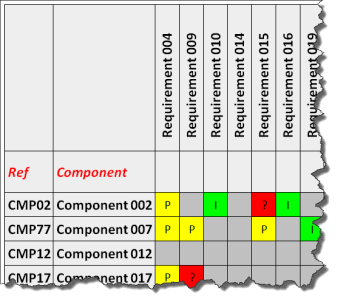 Did you know, we also offer Sparx EA training and consultancy?
We offer a variety of mentoring and consultancy options, as well as structured training and workshops, to support you with the skills you need to use Sparx EA efficiently in your business. Our goal is to bring clarity to your modelling, share solutions and equip you with insights, so that you can use the software more effectively. We already work with clients, both small and large and across many different industries, including the likes of Vodafone and KPMG.
Learn More