Documents are dead – or are they?
If your organization needs documents then you need eaDocX and Revision Manager - for quality documents, easy reviews and fast efficient model updates.
Business is changing - but some things stay the same
With Prolaborate we don't need documents any more. Model in EA, publish to your stakeholders to collaborate and review, job done. And that's what I heard in a recent EA webinar. Two presenters agreed that "documents are dead". They said it several times. As if by saying it they would make it come true. Wouldn't it be wonderful?
Unfortunately I must disagree. I'm sorry guys, but I don't think the world is ready for your big idea just yet.
Why?
I've never yet found an organization that doesn't need any documents – even if they use EA to model every single internal and external aspect of their business. And I suspect even those presenters create documents for their stakeholders too.
There are lots of ways of creating and generating documents from EA, but managing them through reviews and updating the model with resultant changes is time consuming, inefficient and boring. The good news is that eaDocX and Revision Manager have solved that problem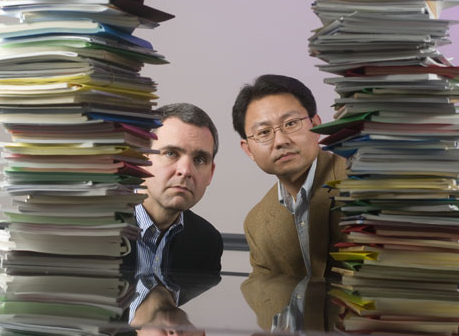 The Paperless Office
There was another prediction that was ahead of it's time.
Back in the late 1980's and early 1990's, many people were predicting the end of paper. The paperless office. With all documents being scanned, we would no longer need filing cabinets or document stores. Everything would be on computers.
So how's that going?
I don't know about you, but there are plenty of documents in our office – only 30 years later. And that's despite the many more reasons that have arrived in the meantime that should have killed them off.
Like the internet, and email, and social media, and putting our data in the cloud, and online apps, and ….
Documents are essential
Somehow documents have persisted. And that's because in many circumstances documents are the best way to get a curated set of information in front of someone.
Contractual documents
Regulatory documents
Formal records.
Documents that are essential, required and mandated.
Although now they are created and stored electronically, documents are still needed.
Aha, you say. But now my team models everything in EA, and we share it with non-modelers using Prolaborate. So we don't need documents anymore.
Yes, we agree. Much of the EA information that used to be shared in documents during the development process can be shared online instead, speeding up decision making.
But still, at the end of the day, for many organizations the key deliverables remain documents. Documents that have to satisfy demanding stakeholders and meet rigorous quality standards.
Creating a document is just the beginning
There are many ways to create and generate documents from EA models, but the most painful, boring job always remains. Managing the review comments and changes back into EA.
And the more documents and the more reviewers, the longer it takes to go through each document and each comment or update one by one to make the changes back into the model.
The Future of Documents
eaDocX makes it easy for every modeler to create the highest quality documents from EA with the minimum of effort.
And then with Revision Manager, the job of combining document comments and revisions made by reviewers back into the model is simple. ea Revision Manager takes the pain out of model updates and document updates.
Revision Manager combines all the updates from all the reviewed documents and collects the changes together, showing them in context next to the part of the model they apply to. Making it easy to compare all the comments relating to each individual element or diagram, select one, and edit or accept it. A single click then saves all the changes back into EA.
And because it's so quick and easy, sharing and updating model data with documents means you don't even need Prolaborate to collaborate. Instead, just use Word documents, that everyone knows, and understands. (But with just a little bit of eaDocX magic under the covers).
Documents definitely aren't dead, but for those who model in EA, they are changing.
The future of documents is here – with eaDocX and ea Revision Manager.
Download eaTeamWorks today and find out for yourself.