Producing a RACI report
Producing a RACI report from data held in EA, mapping stakeholders to any project deliverables by their level of involvement (Responsible, Accountable, Consulted, Informed) is straightforward with eaDocX.
The definition of such a report will depend upon the elements or stereotypes that have been used and the relationships that have been defined between the actors and requirements (or classes, use cases etc).  The following example was created from a sample model using the EA relationship matrix.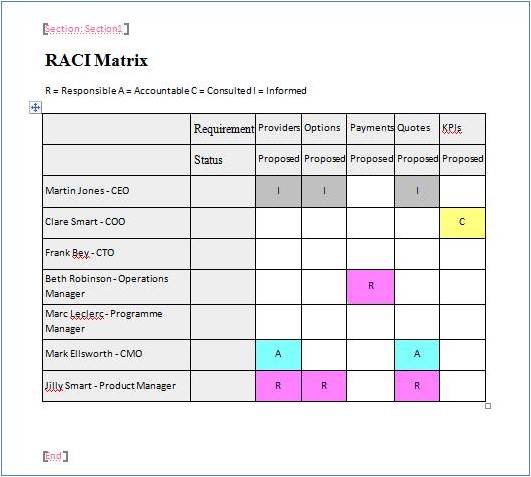 These are the steps…
Insert | Report | Relationship Matrix.  Then in the formatting screen,
General: Add a Title and some text.  In this example I added the Title "RACI Matrix" and I added the legend as text under the title.
Choose the Actor/Stereotype you have defined for your stakeholders – this is the Source
Then the requirement (or other element) / stereotype you want to RACI – add this as the Target.
I chose to print Requirement name and status info for my target elements
I had created and used dependency stereotypes of Responsible, Accountable, Consulted & Informed – I therefore selected dependency as the relationship type.
Select 'stereotype' to print in the matrix cells, then generate.
Your RACI matrix is created.
You can then set some conditional formatting rules – eg I chose to change Responsible, Accountable etc to their Initial letters in the matrix to save space – I also colour coded them to make it clearer to read.