Finding Reference Models
Access
EA Ribbon > Specialize > Model Expert > Reference Models
This will list the RMs in this repository. Note you may need to choose Refresh to load all the RMs.
Each Reference Model is saved in your EA repository as a simple, un-stereotyped package, which contains classes. Each class describes how one element type will behave.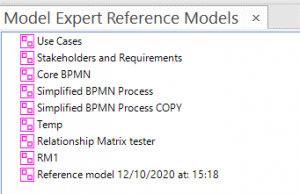 Actions
Right click on any of the Reference Models in this list.
Action
Description
See Also
Find in model
Locate the source of the RM in the EA Project browser
Edit
Customising Reference Model Properties
Refresh
Re-load from the source data
Deactivate/Activate
Inactive RMs will not show up on lists of available RMs
Expand
Shows a tree diagram of the contents of the RM

Element types
Diagram types
Managed packages

Managed Packages