Editing RM Element Connectors
Access
EA ribbon > Specialize > Model Expert > Reference Models, Select a Reference Model > Expand, Choose an Element type > Edit > Connectors
Actions
| Actions | Description | See Also |
| --- | --- | --- |
| Edit | Double-click on a connector, or select a row and click the Hamburger to edit the connector details. | Reference Model Connector type properties |
| Add | Add a new type of connector | |
| Delete | Select a row and click delete | |
A note about Connector Directions
The connectors in a Reference Model define what connectors can exist in your model. For example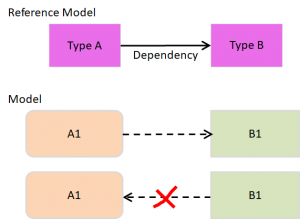 If your Reference Model has a connector as shown above, then A's can have dependency connectors to B, bit not the other way around.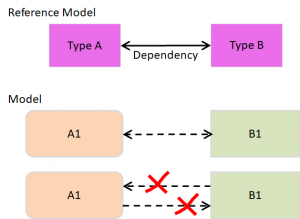 If you create a b-directional link in your Reference Model, then this means the model can also have b-directional links. Bi-directional links are quite unusual. What's more common is to allow connectors to point in both directions.
If you need links from A's to B's AND from B's back to A's, then your Reference Model must look like this: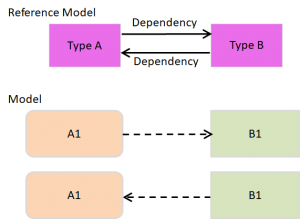 Now connectors can exist in both directions.